$250,000 Toward Diversifying the Cyber Workforce
We just announced the launch of a new program designed to help provide women and minorities with more opportunities to obtain a certification necessary to advance in the cybersecurity field. Through the program, we will provide up to $125,000 in free Certified Information Systems Security Professional (CISSP®) certification test preparation courses to women and minorities across more than 30 private companies that currently have the most open jobs requiring the CISSP® certification. We will also match that donation course-for-course with up to $125,000 in free certification preparation courses to two of the leading diversity advocacy groups in the field—Women in Technology and the International Consortium of Minorities Cybersecurity Professionals (ICMCP). This quarter of a million dollar program focuses on raising the number of women and minorities in the cyber workforce.

How Is that Number So Small?
Today, women make up just 11 percent of the cyber workforce, while minorities represent just under 12 percent. Given the growing shortage of cybersecurity professionals in today's workforce, it is critical that we broaden the range of people in our industry.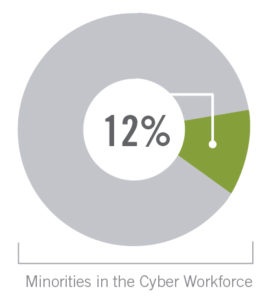 We've partnered with two incredible organizations that give a voice to underrepresented populations in the technology and security space. Women in Technology and ICMCP are both volunteer organizations managed by people in the space who have full time jobs but who give tirelessly to advance diversity in technology. These organizations offer services such as peer mentoring, job listing services, and networking opportunities.
Changing Lives, Changing the Industry
Our program will help women and minorities prepare for and pass the CISSP® exam, and, in doing so, compete for the most in-demand job openings. By helping them retain what they learn after the exam, CyberVista's test prep program will help individuals be better prepared to serve the businesses and organizations they're tasked with securing. By partnering with two key organizations and more than 15 big companies, we're committed to both changing lives and our industry.